---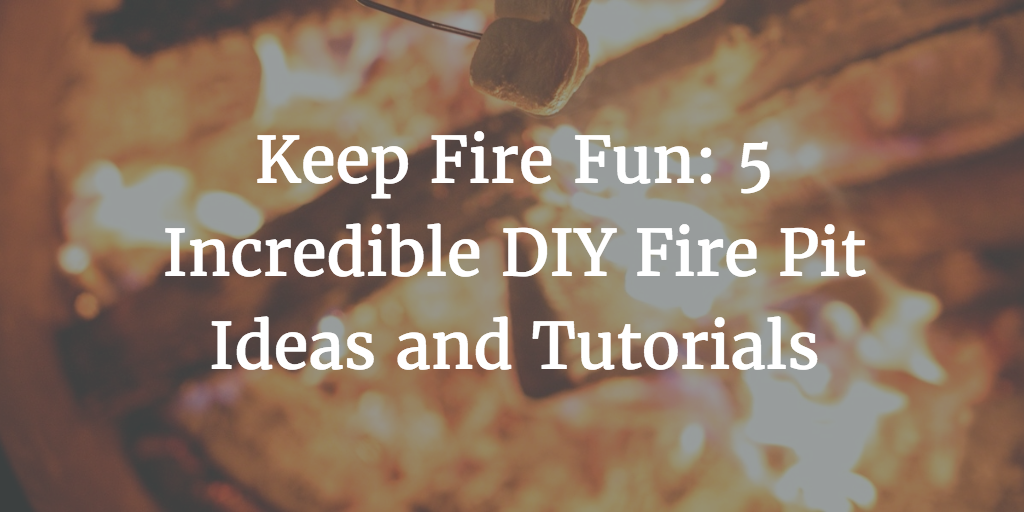 The first official day of Spring has come and gone, which means it's time to start thinking about grooming the yard, dusting off the baseball mitts in the garage, and bringing your glorious fire pit fantasies into reality.
Since its invention, far back on the fringe of human history, the fire pit has been a place to share stories, reflect under the stars, seek the refuge of warmth and comfort, and enjoy the company of friends and family.
So in the spirit of Spring, we've compiled a list of DIY fire pit ideas to
warm up your imagination
to all of the possibilities.
Ain't No Pit Like Home
This fire pit tutorial, courtesy of A Beautiful Mess, instructs you how to build a triple-layered stone pit on top of a gravel bed. It has a simple aesthetic, it's easy to construct, and it's one of the more cost-effective models we've seen. Just remember to check your local town/city ordinances before embarking on a fire pit endeavor of any kind. Compliance shouldn't be too difficult, but if you're going to build a fire pit, you'll want to build it right.
The Completely Concrete Pit
Most fire pits are built using fire-resistant stones that are placed and fitted together. However, in this video from Home Made Modern, they walk you through how to frame, pour, and set a fire pit made entirely from concrete. It has a more modern, contemporary look than traditional stone pits and has serious staying power. This model is time intensive and slightly more expensive (checking out at about $250) but is worth it if you're looking for a sturdy and visually appealing pit.
A Pit For When the Sun Sinks Lowe
Leave it to Lowes to provide the most straightforward of all fire pit solutions. You can erect this visually appealling pit in an afternoon, just in time for a night of roasting s'mores and exchanging stories. There's no adhesive, no concrete, no extra steps. Just the best of the basics.
Did You Say "Portable Pit"?
You can throw this compact, concrete pit in the back of your car or carry it to various spots in your yard, whatever suits you. It's the smart car of fire pits, it can fit almost anywhere. And as far as concrete pits go, it's incredibly simple to craft. Give it a try and see for yourself.
The Pit of Steel
This fire pit uses steel sheets to form its frame. Although intimidating at first, this ring of fire is feasible for just about anyone. Using sheets of 16 guage steel, masnonry sand, and stone, you can build this rustic looking fir pit for relatively cheap. Most pit tutorials focus on concrete or stone formations which puts this steel-framed one in a league all its own.
---